The AAOA Wins Gold in Association TRENDS 2017 All-Media Contest
FOR IMMEDIATE RELEASE
Contact: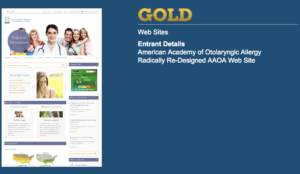 Marina Fassnacht
Director of Marketing and Communications
11130 Sunrise Valley Dr.
Reston, VA 20191
202-955-5010
The American Academy of Otolaryngic Allergy Wins Gold in Category  Websites in Association TRENDS 2017 All-Media Contest
Bethesda, MD (March 1, 2018) – The American Academy of Otolaryngic Allergy (AAOA) has been honored with a Gold Award in category Websites in Association TRENDS' 2017 All-Media Contest. It was one of nearly 300 entries in the association publications contest.
The TRENDS All Media Contest is an annual competition held exclusively for associations, recognizing the most creative and effective communication vehicles developed in the industry over the prior year. The 2017 competition included about 300 entries in 23 categories of association communications.
The American Academy of Otolaryngic Allergy (AAOA) represents over 2,700 Board-certified otolaryngologists and health care providers. The AAOA actively supports its membership through education, research, and advocacy in the care of allergic patients.
With help of 2040 Digital, the AAOA Digital Workgroup took on the challenge of figuring out what modern AAOA members' website needs and wants are… and www.AAOAllergy.org was born. The re-designed AAOA web site is one of the key communication tools. The AAOA recognized the opportunity to both provide information and resources to expand the tools it offers to its members. The new web site is interactive, searchable, social, and scalable. It drives engagement, calls to action, and has quality content that is constantly updated by subject experts. Skillfully designed wireframes allowed a unified build to have defined pages by member type or interest and allow each user to find their own unique path toward the information at hand.
Association TRENDS is dedicated to providing association executives and industry partners the training, data and insights you need to better understand and serve your organization.
See Association TRENDS for more industry analysis and news.