Core Allergy & Rhinology Concepts: Age of Pandemics & Beyond - NOW ON DEMAND
Course Overview
The Course Registration is Now Closed Online, Please Call (202) 955-5010 if You Have Any Questions
Learn How to Reboot Your Practice and Freshen Up on Core Allergy and Rhinology Components
"This course far exceeded my expectations on every level. The speakers were friendly and approachable, and provided concise, clear and polished presentations. The course as a whole succeeded in equipping the attendees with all the necessary fundamentals of otolaryngic allergy. The virtual course platform was easy to access and navigate, and promoted a dynamic and engaging experience. I feel well prepared and motivated to start allergy in my practice! Thank you!"
~ Nici Bothwell, MD
___________
"The course was very well done. I liked that it did not interfere with my clinic schedule. After shut downs many docs do not want to take time away from their work, especially in the face of another possible shut down, so this was optimal in such uncertain times. 
I loved the interactive games and panels. The lecture lengths were great to get to the meat of the issue but not lose interest in the topics, and having slides and references to review allows for later study. Very well done."
~ Camysha Wright-Gooden, MD, FAAOA
___________
"Welcome to the 21st century. This Online Course was OUTSTANDING. I never would have attended a course such as this had it not been online. The tech company you used really stepped up to the plate."
~ Jack Anon, MD, FAAOA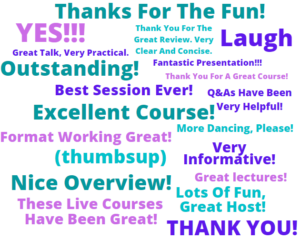 Register now  for the Core Allergy & Rhinology Concepts: Age of Pandemics and Beyond that is still available for on demand! It is a great value for rebooting and training returning or new staff.
The course is available in three components — Practice Reboot, Core Allergy Concepts, Core Rhinology.
Core Allergy offers what you need to help refresh or add allergy to your practice. While it is not the Basic Course, everything you need from the clinical science to the basics of allergy is included. This is a great way to expand your practice knowledge for your and your key staff. It offers a better understanding of testing techniques, vial preparation, and dose calculations to other practical implications.
Core Rhinology encompasses the highly sought after rhinology content from our former IAR program. Like Allergy and Practice Rebooting, it offers everything from the basics to key nuances of different rhinologic approaches
Content Area Highlights
Part 1 – Practice Reboot (available on demand)
Telemedicine Was Coming to Allergy – COVID-19 Simply Sped Up Its Adoption (6 lectures)
The New Normal and How It Will Be Affected by COVID-19? (6 lectures)
Show Me the Money – The Delicate Balance (4 lectures)
Leaner Practices – HR Practicalities (4 lectures)
Opportunities for Growth (4 lectures)
Special Clinical Concerns (5 lectures)
Importance of Physician Wellness and Resilience (3 lectures)
Part 2 – Core Allergy (live streaming July 7-11, 2020 – now on demand)
Introduction to Allergy
Allergy Testing (Prick, IT, IDT, In Vitro)
Treatment of Allergy (SCIT, SLIT, Dose Calculations, Vial Prep)
Introductions to Advanced Topics (Unified Airway, Asthma, Food Allergies, SLIT)
Part 3 – Core Rhinology (live streaming July 12, 2020 – now on demand)
Introduction to Rhinology
Systemic Diseases in the Rhinologic Patient
Techniques and Complications of Sinus Surgery
Did you only register for a single component of the course? If you would like to expand your program access, please contact AAOA directly at 202-955-5010 or meetings@aaoallergy.org.
Accreditation Statement
The American Academy of Otolaryngic Allergy is accredited by the Accreditation Council for Continuing Medical Education (ACCME) to provide continuing medical education for physicians.
AMA Credit Designation Statement
The American Academy of Otolaryngic Allergy designates this live activity for a maximum of 30 AMA PRA Category 1 Credits(TM). Physicians should claim only the credit commensurate with the extent of their participation in the activity.
ABOHNS Continuing Certification Recognition Statement
Successful completion of this CME activity, which includes participation in the evaluation component, enables the participant to earn their required annual part II self-assessment credit in the American Board of Otolaryngology – Head and Neck Surgery's Continuing Certification program (formerly known as MOC). It is the CME activity provider's responsibility to submit participant completion information to ACCME for the purpose of recognizing participation.
Commercial Support:
The AAOA would like to acknowledge Edge Pharmaceuticals for their in-kind support of providing supplies for this course for the Skin Testing Practicum.
The AAOA would also like to acknowledge OptiNose for their unrestricted educational grant in support of the Core Allergy & Rhinology Concepts: Age of Pandemics & Beyond
Looking for More Value? AAOA is now aligned to offer CME credits for eligible ABOHNS Diplomates for Continuing Certification (MOC). As an AAOA member can choose to participate in ABOHNS Continuing Certification credits (MOC) Part II: Self-Assessment credits by click the MOC option when registering for this activity.  Make sure you update your member profile when you register to help assure you can receive Continuing Certification credit.
As our pilot year, the AAOA is making the participation in ABOHNS Continuing Certification credits (MOC) free for AAOA members with this CME course registration. MOC opt-in option is complimentary until the course ends. You will be asked to pay $100 late fee if you miss the deadline and still want to claim Continuing Certification credits (MOC) for this activity.  Nonmembers can also participate in ABOHNS continuing certification for an additional fee.
Learn more by visiting the ABOHNS Continuing Certification credits (MOC) page.
Join Us Online!
On demand access is available! Hurry!!! The recorded Core Allergy and Rhinology lectures will not be available for a long time!
| | |
| --- | --- |
| Members (Whole Course - 3 Segments) | $925.00 |
| Member (Any 1 Segment) | $395.00 |
| Member Resident (Whole Course - 3 Segments) | $475.00 |
| Non-Member (Whole Course - 3 Segments Only) | $1390.00 |
| Industry Representative | $1390.00 |
Corporate Support/Exhibit Opportunities
Registration fees for this course are non-transferable and non-refundable. Please contact the AAOA directly (meetings@aaoallergy.org) regarding cancellation.
If you have a disability or require assistance during the course, contact the AAOA at 202-955-5010 or meetings@aaoallergy.org.
If you're not a member of the AAOA, join now and take advantage of the membership rates.