AAOA Basic Course in Allergy & Immunology 2022
Course Access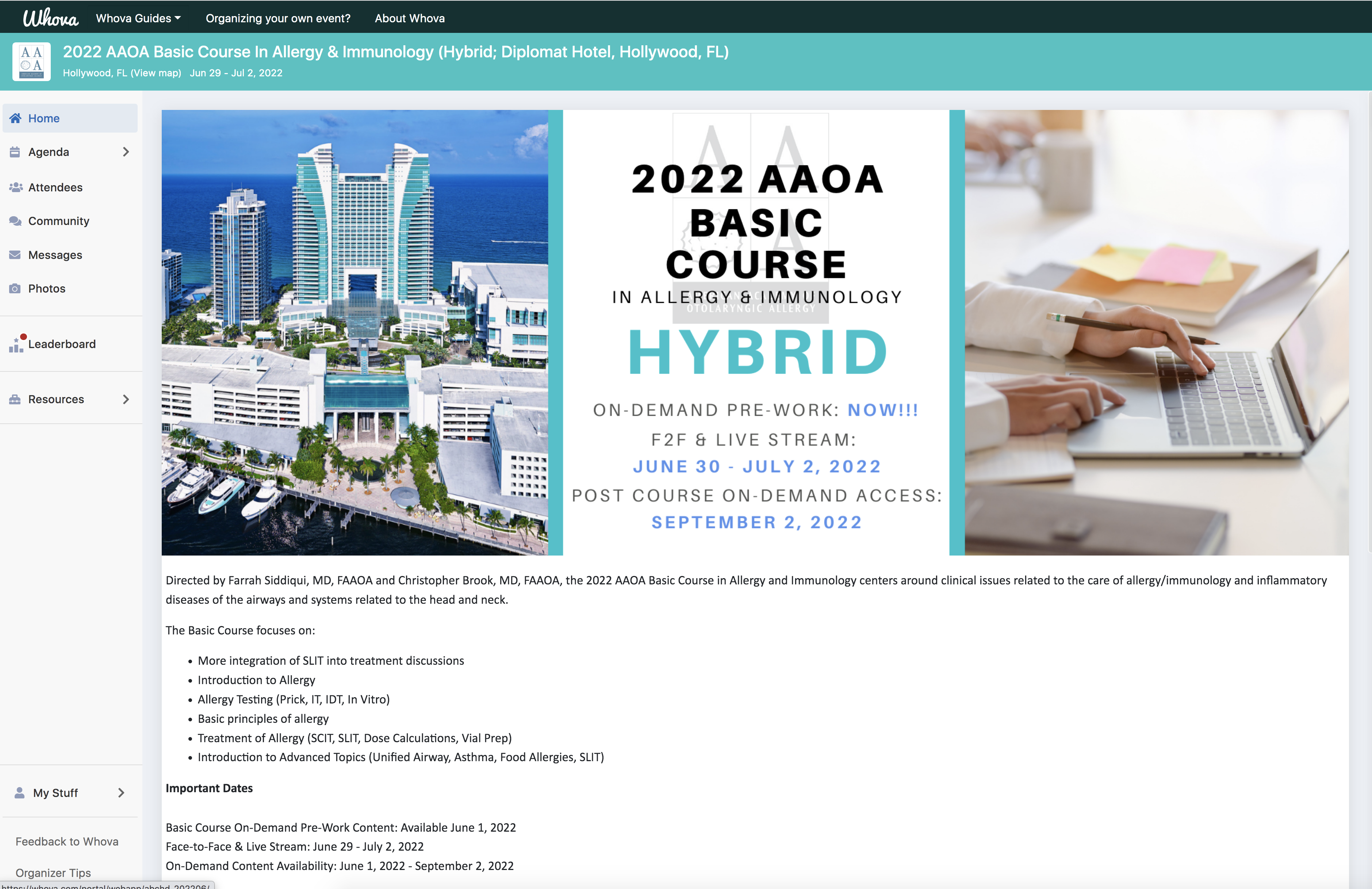 Wednesday, June 1, 2022 – Pre-Work On-Demand
Thursday, June 30 – Saturday, July 2, 2022 – F2F/In-Person & Live Stream
September 2 – Post Course On-Demand Access
The Diplomat, Hollywood, FL & Virtually
We are excited to offer both face-to-face (F2F) and virtual participation. If you plant to attend the 2022 AAOA Basic Course in Allergy & Immunology in-person/F2F, please book your hotel room now and we will see you in Florida!
Using the Whova platform, you have choices in how you view the content — Live Stream/F2F and On-Demand — to maximize your opportunities to participate.
Wednesday, June 1, 2022 – Pre-Work On-Demand
Thursday, June 30 – Saturday, July 2, 2022 – F2F/In-Person & Live Stream
September 2 – Post Course On-Demand Access
As a hybrid, the course kicks off with Pre-Work On-Demand content on June 1, 2022. This suite of lectures is designed to teach important foundational content to prepare the learner to get the most out of their AAOA Basic Course experience. Recorded content will allow you to learn at your own pace, review what you have learned, and have your questions answered during the live sessions.
If you have already registered for the course, Download the Whova App. If you have not, then Register Now
Whova is the official app for the 2022 AAOA Basic Course in Allergy & Immunology with features allowing you to:
View the event agenda and plan your schedule
Access Pre-Work On-Demand Videos and Live-Stream/On-Demand sessions
Engage in session Q&A and Live Polling
Set up meet-ups with your fellow attendees to connect in person or remotely
Create and converse through various Discussion Topics in the Community Board
If you need more guidance on how to use Whova to attend the event, please visit Whova User Guides. If you have any questions regarding your registration, please contact Kate Chenal via email (meetings@aaoallergy.org) or call our office at 202.955.5010.
COVID-19 Safety
To reduce the risk of COVID-19 transmission, we are adopting a policy to safeguard the health of our members and the community at large. The AAOA strongly encourages all attendees at AAOA meetings to be fully vaccinated against COVID-19.
As part of AAOA's new policy, all attendees, upon arrival at our event and in order to be allowed to enter the event space, are required to show documentation of either 1) full vaccination against COVID-19 or 2) proof of a negative COVID-19 test performed within 72 hours of arrival.
Acceptable documentation includes:
Physical vaccination card
Digital vaccination record
Photograph of vaccination card
Physical or digital proof of negative test results
AAOA meeting attendees must also take precautions to prevent acquiring breakthrough infections and follow CDC guidelines regarding masking, social distancing, etc. AAOA recommends the use of masks in the meeting space. Additionally, attendees must adhere to all requirements and guidelines of the State of Florida, the City of Hollywood, and the event facility to prevent the spread of COVID-19 during the 2022 AAOA Basic Course in Hollywood.
Join Us In Florida
Fellow Member       $1,110
Associate Member  $1,225
International Member $1,225
NP/PA Member $1,225
Allied Health Member $1,225
Resident Member $600
Non-Member Physician  $2,500
Non-Member Allied Health, NP/PA $2,500
Non-member Resident  $850
Industry Representative  $2,500
Registration fees are non-transferable. Refunds (less a 20% administration fee) may be considered for cancellations received in writing by the AAOA prior to June 1, 2022.
Those who change from F2F to Virtual or Virtual to F2F will not be assessed any change fees.
Cancellations received after June 1, 2022 are non-refundable. 
If you have a disability or require assistance during the course, contact the AAOA at 202-955-5010 or contact@aaoallergy.org.