Travel and Accommodations
Friday, September 9 – Sunday, September 11, 2022 – F2F/In-Person & Live Stream
October 15, 2022 – Post Course On-Demand Access
Loews, Philadelphia, PA & Virtually
As a hybrid meeting, we are excited to offer both live F2F/In Person and Virtual participation.
Hotel and Meeting Location Information
Loews Philadelphia Hotel
1200 Market Street
Philadelphia, PA 19107
Phone: 215-627-1200
Reservations: 1-888-575-6397 or click here
Room Rate
Room rate is $269 (plus 16.25% tax) single/double occupancy.
At check in, each guest will have the opportunity to reconfirm departure date.  Guests departing prior to that date will be assessed a charge of 50% of the rate for each night that the guest is departing early.
Room rates are based on availability, and the AAOA cannot guarantee room availability.
For attendees who would like to extend their stay in Philadelphia, the AAOA is pleased to offer the above-noted rate for three (3) days before and after the meeting (based on availability).
Reservations
Call 1-888-575-6397 or click here to make your reservation online
Reservation Deadline: August 15, 2022
Room cancellations must be made at least 72 hours prior to scheduled arrival.
Check-in time: 4:00 pm; Check-out time: 11:00 am
Airports & Ground Transportation
Just minutes from the Philadelphia International Airport, and Amtrak's 30th Street Station, Loews Philadelphia Hotel offers guests convenient and accessible Philadelphia travel. Click here for a map & driving directions to the hotel.
About the Loews Philadelphia Hotel
Loews Philadelphia's landmark structure was America's first skyscraper, rising a commanding 33 stories into the air. Using curved glass and bold geometric shapes, it was constructed in the Art Deco period and was home to our country's first savings bank. Rare woods along with marble and granite from over 30 countries were utilized to dramatic effect, and clocks by Cartier made sure everyone was on time.
From 20 miles away, you can still catch sight of the undisturbed sign of the original owners—The Philadelphia Savings Fund Society—as PSFS glows in glorious red neon. Today, you can still see the imposing bank vault doors in the hotel lobby—an homage to our history and a striking art installation. Read More
Plan Your Trip to Philadelphia
Only 100 miles from New York City and 130 miles from Washington, D.C., Philadelphia is in the center of it all.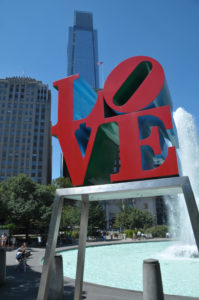 By plane: There are more than 1,200 daily nonstop flights to PHL. Click here for a map & driving directions to the hotel.
By train: Amtrak Acela and commuter trains arrive at historic 30th Street Station throughout the day, placing passengers within a short walk of Loews Philadelphia Hotel. Philadelphia is only 1 hour and 20 minutes from New York City and 1 hour and 45 minutes from Washington, D.C., via Acela Express.
By bus: Megabus offers low-cost express bus routes throughout the Northeast Corridor.
By car: Almost half of the U.S. population is within a day's drive of Philadelphia. Interstates 95 and 76, and the Pennsylvania and New Jersey Turnpikes, provide access from all points on the compass. Loews valet parking:$49 per car per night.
COVID-19 Safety
To reduce the risk of COVID-19 transmission, we are adopting a policy to safeguard the health of our members and the community at large. The AAOA strongly encourages all attendees at AAOA meetings to be fully vaccinated against COVID-19.
As part of AAOA's new policy, all attendees, upon arrival at our event and in order to be allowed to enter the event space, are required to show documentation of either 1) full vaccination against COVID-19 or 2) proof of a negative COVID-19 test performed within 72 hours of arrival.
Acceptable documentation includes:
Physical vaccination card
Digital vaccination record
Photograph of vaccination card
Physical or digital proof of negative test results
AAOA meeting attendees must also take precautions to prevent acquiring breakthrough infections and follow CDC guidelines regarding masking, social distancing, etc. AAOA recommends the use of masks in the meeting space. Additionally, attendees must adhere to all requirements and guidelines of the State of Pennsylvania, the City of Philadelphia, and the event facility to prevent the spread of COVID-19 during the 2022 AAOA Annual Meeting in Philadelphia.
Join Us In Philly
Fellow Member
$295.00
Associate Member
$295.00
International Member
$295.00
NP/PA Member
$295.00
Allied Health Member
$295.00
Resident Member
$0
Non-Member Physician
$795.00
Non-Member Allied Health, NP/PA
$795.00
Industry Representative
$795.00
Single Day Pass Member
(not eligible for rebate)
$195.00
Single Day Pass Non-Member
$495.00