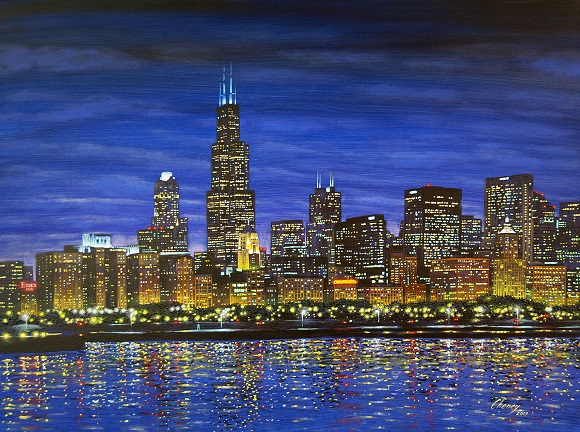 Welcome to the 2017 AAOA Annual Meeting
Offering Winning Strategies for Your Practice
By Cecelia Damask, DO, Director of Educational Programs, and Matthew Ryan, MD, Coordinator of Education


This September, join us in Chicago, where culture meets content at the redesigned AAOA Annual Meeting featuring the food, art, and architecture of Chicago, thoughtfully blended with what you need to know for your practice to thrive in these challenging times.
For our 2017 Annual Meeting we are going back to where it all started. The Palmer House Hilton Hotel is a timeless Chicago landmark that hosted the AAOA's first annual meeting (as well as many ABOto Board exams). This year's meeting promises to be interactive, practice-centered, and fun!
On Friday we will be featuring new clinical, hot topic content. We will kick off with a practical forum on How to Make SLIT Work in Your Practice. You don't want to miss the pearls that will help your SLIT practice thrive. Antigen selection, dosing, and financial aspects of a SLIT practice all will be addressed.
The BJ Ferguson Memorial Keynote Lecture this year will be given by Amal Assa'ad, MD. Dr. Assa'ad was a pivotal member of the expert panel who created the NIAID-Sponsored Food Allergy Guidelines in 2010 and again was a vital member of the expert panel for the development of the Addendum Guidelines for the Prevention of Peanut Allergy in the United States. She will tackle the complex topic of food allergy and break it down into easily understandable pieces that are clinically relevant to your practice.
Windy City Tours
We will be introducing some new concepts in learning at this meeting that we are excited to share with you. One of these new concepts will be our outside the classroom series: Content Meets Culture—Conversations with Experts. These new sessions will be small groups led by AAOA faculty in an informal, topic-focused discussion while touring Chicago. We hope to blend a small amount of education with large amounts of fun. The Windy City has so much to offer, and we want to allow you to enjoy part of Chicago while learning by taking the meeting out of the hotel and into the city.
Chicago is known around the world for its architecture and history. The buildings and architecture of Chicago have influenced and reflected the history of American architecture. Reflective of the Windy City's history and multicultural heritage, prominent architects including Frank Lloyd Wright, Luis Sullivan, and Mies van der Rohe, just to name a few, are showcased throughout the city with a variety of architectural styles. Since all of the structures within the downtown area were destroyed by the Great Chicago Fire in 1871, Chicago's post-fire buildings are noted for their originality as well as Chicago's storied gangster history. Landmark buildings of varying styles will be highlighted on several of the architectural tours that AAOA faculty will be leading.
A Night at the Museum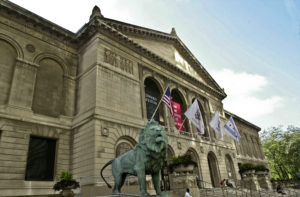 Friday evening we will have a truly extraordinary experience: a special soirée including drinks and hors d'oeuvres at the Art Institute of Chicago with a private viewing of the permanent collection of the Art Institute. The AAOA's reception will be held in the Woman's Board Grand Staircase. This sweeping staircase is encircled by the Ryerson and Burnham Libraries and Fullerton Hall; it rises with grace and grandeur to a sunlit space on thesecond level surrounded by architectural fragments from some of Chicago's most legendary buildings. This open atrium flows into the crown jewel of the Art Institute, the Pritzker Galleries of Impressionism and Post-Impressionism. You will be only steps away from world-class treasures by Degas, Monet, and Renoir! Art Institute docents in the galleries will give us private tours of some of the most famous pieces of art in the world. We hope that this will be a special event that you'll cherish long after the meeting.
The Bottom Line
All day Saturday at this year's redesigned Annual Meeting will be dedicated to the business of medicine. Based on your response to our member survey, we will be focusing on the day-to-day issues that all Otolaryngologists face — whether you're in private practice, academics, or a multi-specialty group. We will be featuring sessions designed to address the key issues that are affecting your practice right now. We have created this new business of medicine day for Otolaryngologists at every stage of their career as well as for their practice administrators and billing staff. This unique full-day of the business of medicine will help you improve your practice efficiencies for better overall patient care.
These sessions will be lead by an exceptional mix of professional consultants, Otolaryngologists, and practice administrators who wage the same battles that you do every day. There will be general sessions presented by business consultants that will feature a topic of broad interest to all attendees.
Ron Howrigon, a former managed care executive now at Fulcrum Strategies, a contract negotiation and practice marketing firm, will present a keynote address on Strategic and Tactical Practice Management. As a managed care executive, Ron became disillusioned with what he saw happening to physicians, particularly their declining reimbursement. In founding Fulcrum, Ron's goal was to provide local medical practices with leverage to succeed against the managed care companies. A decade later, his firm has helped physician groups of all sizes and specialties across the country to significantly improve their contract language and reimbursement rates, strategically plan for the future, and achieve business success.
Ken Hertz, a nationally recognized medical practice management consultant with over 43 years experience, will be speaking to us on Surviving and Thriving in Challenging Times: What's next for the Practice of Allergy and Otolaryngology?
Smaller breakout sessions will focus on a single important topic such as billing/coding, documentation, practice efficiencies, marketing, social media, and practice staffing. The breakout sessions will be led by professional consultants, Otolaryngologists, and practice administrators, thus allowing multiple points of view to be expressed.
Cheyenne Brinson will lead several of the breakout sessions. An internationally recognized thought leader and speaker, Karen Zupko and her associate, Kim Pollock, advise physicians and healthcare managers about the challenges and trends impacting the practice of medicine. Karen's expertise encompasses all areas of practice management, from marketing, financial management, and operational efficiency to leadership and governance, online reputation management, and social media strategy.
Get ready for an insightful overview of the current hot topics in coding with Teresa Thompson. Teresa is the owner of TM Consulting, a national medical consulting and management firm that specializes in coding, compliance and education with a wide range of consulting services. Teresa also works with the AAAAI Practice Management division as well as giving coding and reimbursement lectures for the ACAAI and the AAAAI. She is currently a contributor for the Practice Management Manual published by the AAAAI. Roll up your sleeves and get ready to tackle real-world coding scenarios with Teresa.
This day devoted to the business of medicine will help improve how you and your staff face the everyday challenges of effectively and efficiently running your practice. We want to warn you that it will be difficult to choose which of the incredibly practical breakout sessions to attend, so you may want to consider bringing your practice administrator, billing manager and/or other clinical staff responsible for practice management activities as well to the only business of medicine program created by Otolaryngologists for Otolaryngologists.
ReCAP
Also on Saturday we will feature ReCAP, the Review of Core Allergy Principles. This session is ideal for PAs, NPs, nurses, office staff, residents as well as anyone interested in learning more about allergy diagnosis and immunotherapy. ReCAP is a format of short, powerful talks that will cover the breadth of allergy and immunology. These short, riveting talks will be given by remarkable faculty who will communicate their passion for the practice of allergy within an Otolaryngology practice. ReCAP is a must attend session for new and veteran allergy staff alike, not only for the motivational spirit for the practice of allergy, but also for the practical content including allergy testing and interpretation, vial mixing, dosing, SLIT, etc. Read More
Taste of Chicago
On Saturday evening, the faculty and exhibitors will host a reception featuring Chicago's iconic culinary staples offering you a true taste of the Windy City. During this authentic Chicago experience, you will be able to mingle with the faculty and exhibitors to get some of your most important questions answered while sampling true tastes of Chicago, including deep– dish pizza, the classic Chicago-style hot dog, and Italian Beef.
Sunday's program begins with the Breakfast Research Symposium highlighting scientific research, followed by Rapid Fire Learning sessions on the latest new information and ideas on a variety of topics including asthma updates, atopic dermatitis, AERD, biologics, and food allergy. This will be followed by Cases, Conversations, and Collaborations, which will be interactive sessions on chronic pruritus, sleep and allergy, starting an allergy practice, and medication allergy.
The Annual Meeting will again be an all-inclusive price this year, thus allowing you to pick and choose among the various available concurrent sessions. Chart a course to Chicago, and come prepared to hear what the allergy practice of the future will be like. Return to your practice, energized and prepared for the challenges ahead. We look forward to hosting you at a truly redesigned Annual Meeting in the wonderful city of Chicago!
USA Today's 10 Best Readers' Choice Awards recently characterized the Palmer House as a hotel that is rich in the history of Chicago, yet comfortably cool. The Palmer House is an elegant art-filled property that is hip and modern while still preserving its storied past. The location conveniently connects you to State Street, Millennium Park, the Art Institute and more in the Windy City.