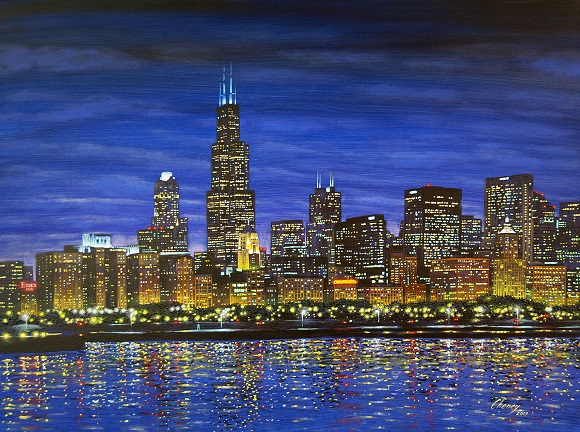 Join me in Chicago at the Redesigned AAOA Annual Meeting
By Cecelia Damask, DO, Director of Educational Programs
I want to personally invite you this September, to join me in Chicago, where culture meets content at the redesigned AAOA Annual Meeting featuring the food, art, and architecture of Chicago, thoughtfully blended with what you need to know for your practice to thrive in these challenging times. This year's meeting assures to be interactive, practice-centered, and fun!

On Friday we will be featuring new clinical, hot topic content.  We will kick off with a practical forum on How to Make SLIT Work in Your Practice.  You don't want to miss the pearls that will help your SLIT practice thrive. 

The BJ Ferguson Memorial Keynote Lecture this year will be given by Amal Assa'ad, MD. Dr. Assa'ad was a pivotal member of the expert panel who created the NIAID-Sponsored Food Allergy Guidelines in 2010 and again was a vital member of the expert panel for the development of the Addendum Guidelines for the Prevention of Peanut Allergy in the United States.  She will tackle the complex topic of food allergy and break it down into easily understandable pieces that are clinically relevant to your practice.

We will be introducing some new concepts in learning at this meeting that I am excited to share with you.  One of these new concepts will be our outside the classroom series:  Content Meets Culture—Conversations with Experts.  These new sessions will be small groups led by AAOA faculty in an informal, topic-focused discussion while touring Chicago.   We hope to blend a small amount of education with large amounts of fun.  These sessions will be offered as walking tours or a tour inside the Palmer House hotel.  The Windy City has so much to offer and we want to allow you to enjoy part of Chicago while learning by taking the meeting out of the hotel and into the city. 

Friday evening will be a truly extraordinary experience:  a special reception including drinks and hors d'oeuvres at the Art Institute of Chicago with a private viewing of the permanent collection of the Art Institute! Art Institute docents in the galleries will give us private tours of some of the most famous pieces of art in the world. I hope that this will be a special event that you'll cherish long after the meeting.

All day Saturday will be dedicated to the business of medicine.  We will be featuring sessions designed to address the key issues that are affecting your practice right now.  This new business of medicine day was created for Otolaryngologists at every stage of their career as well as for their practice administrators and billing staff.  This unique full-day of the business of medicine will help you improve your practice efficiencies for better overall patient care. 

Also on Saturday we will feature ReCAP, the Review of Core Allergy Principles.  This session is ideal for PAs, NPs, nurses, office staff, residents as well as anyone interested in learning more about allergy diagnosis and immunotherapy.  ReCAP is a format of short, powerful talks that will cover the breadth of allergy and immunology. 

On Saturday evening, the faculty and professional consultants will host a reception featuring Chicago's iconic culinary staples offering you a true taste of the Windy City.

Sunday's program begins, with the Breakfast Research Symposium highlighting AAOAF- sponsored research, followed by Rapid Fire Learning sessions on the latest new information and ideas on a variety of topics including asthma updates, atopic dermatitis, AERD, biologics, and food allergy. This will be followed by Cases, Conversations, and Collaborations, which will be interactive sessions on chronic pruritus, sleep and allergy, starting an allergy practice, and medication allergy.

The Annual Meeting will again be an all-inclusive price this year, thus allowing you to pick and choose among the various available concurrent sessions. Chart a course to Chicago, and come prepared to hear what the allergy practice of the future will be like. Return to your practice, energized and prepared for the challenges ahead. 

I look forward to hosting you at a truly redesigned Annual Meeting in the wonderful city of Chicago!