New Orleans: Should I Stay or Should I Go?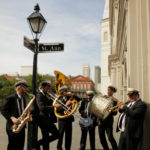 Much like the Clash song lyrics, many of you will flip through this AAOA Today issue trying to assess whether it is worth the cost to get on a plane to participate in the AAOA's Annual Meeting. We recognize you have lots of CME options, some are even competing with our meeting in New Orleans. Let's look at this from the value proposition.
10 Reasons to join AAOA in New Orleans:
The Annual Meeting registration is FREE for AAOA members The annual meeting is included in your overall dues costs to help drive member value. Reducing your out of pockets costs is intended to help you participate.
Live programs offer networking Let's face it, no one is going to get on a plane if they can read the manuscript in a subsequent issue of IFAR or gain the same insights online. So what is it that live CME offers? It offers an opportunity to network with peers, learn current trends in treatment, and talk to others about what they do, what
they have changed recently in their practice, and what they are going to do differently when they get back.
Hot Topics: Biologics Biologics are coming for the treatment of chronic sinusitis with nasal polyposis (expected FDA approval this year). Some members are already using biologics for the asthma, AERD, etc. The AAOA recently convened a roundtable to consider the
role of biologics in otolaryngology. This roundtable and practicalities on how to add biologics to your treatment regiment will be highlighted.
Hot Topics: Foods Foods — everything from practical approaches to managing the food allergy patient to how do the LEAP and LEAP ON guidelines work in your practice are still hot topics. Friday, we will showcase foods to help pull it all together for you and your practice.
Practice Management Often the business of medicine is overlooked. Yet, your day-to-day operations impact everything from your patient care and outcomes to your revenue. Based on member feedback, AAOA has incorporated hot topics in the business of medicine. Bring your staff or administrator with you to learn together. Featured topics this year will tie to coding hot topics, practice efficiency, developing the right culture and retaining the right staff, legal perspectives on contracting from employment to payer to EMR licensing, how to
evaluate service lines, challenges and opportunities in different practice models, and more.
ReCAP – Review of Core Allergy Principles Our Review of Core Allergy Principles (ReCAP) offers a great one-day immersion into allergy in the ENT practice. Built for those new to adding allergy (residents, allied health, advanced practice practitioners, and early career physicians), this program continues to draw folks with varying levels of experience. Broken into 5 components, ReCAP allows attendees to participate in the sessions most important to them and still participate in the other concurrent practice management and clinical sessions. It is a great way to bridge the gap before the next full Basic Course or for your staff to participate in a condensed review of allergy in otolaryngology.
New: Optional Workshop on USP 797– All You Need for Compliance With the pending implementation of the new USP 797 Guidelines, the AAOA is developing a tool to help you document compliance. As an added bonus, this Annual Meeting workshop will include a media fill kit to help you check all your boxes. This is a great opportunity to bring your allergy staff — document compliance with the USP 797 Workshop, gain some refreshers during ReCAP, and balance out the meeting with clinical and practice management content. Since registration is free to all AAOA members, we highly recommend AAOA membership for your staff.
New: Optional Workshop on Crucial Conversations VitalSmarts specializes in helping teams improve their culture and working relationships through improved communication. Your staff team is key to your healthcare delivery and patient outcomes. This 3-hr workshop will help you gain an appreciation for how communication
styles impact the work place and offer tools to improve how your team communicates.
Content Meets Culture Tours With the success in both Chicago and Philadelphia, our Content Meets Culture Tours are gaining their own following. Join us for this unique outside the classroom opportunity where we blend New Orleans and all the city has to offer with discussion with peers on common clinical challenges. This has proven to be a great way to engage and learn with peers, not to mention help assure your meeting participation does not trap you in a hotel.
Lagniappe — A Little Something Extra As our thank you to our membership, we will share a little something extra or Lagniappe as they as say in New Orleans. A testament to true Southern hospitality, we will celebrate with you at the Chicory. Here you will get a sampling of New Orleans. We hope these give you reasons to answer the question, "Should you go?" emphatically yes! We have worked hard to
build a program based on your feedback on what you would like and need to learn.
We look forward to welcoming you to New Orleans!